Lee R. Lambert, PMP
Fellow, PMI
CEO, Lambert Consulting Group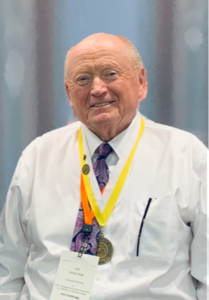 【簡歷 Bio】
Lee R. Lambert has logged 50+ years of project management experience and is considered one of the world's thought leaders on project management methods and how they can be utilized to create and sustain value added Leadership and Collaboration capabilities.   He is one of only 70 in the world to receive the honor of PMI Fellow. Lee is a Past President of the Central Ohio PMI and was one of the Founders of the Project Management Institute's Project Management Professional (PMP) credential.  His book, Project Management-The CommonSense Approach, is a best seller in the field.
At 37 years old Lee was named VP of Staff and Organizational Development for one of the world's largest contract research organizations where he was responsible for creating and implementing a Leadership Development program focused on improved performance for project managers and supporting functional/line managers.
During his decades of platform training Mr. Lambert has provided learning opportunities to more than 50,000 professionals in 23 countries.  He is regularly called upon to provide Keynote presentations on Leadership, Communications and other Project Management topics.  Before his years as VP, Mr. Lambert was a project management evangelist at Lawrence Livermore National Laboratory and General Electric.
【演講題目 Speech Topic】
The Future of Project Management Through the Eyes of the Past
【演講大綱 Speech Abstract】
Lee will draw on his over 55 years of experience working in project management in a diverse industrial environment to analyze and predict the future.  He will examine the impact of the amazing growth of the PMP and other professional certifications, while incorporating the benefits of AI and the continued rapid growth of sophisticated automation in support of individual project decision makers and executive sponsors.  Specific cases will be cited to confirm the trend that we are seeing in project management.  The role of the PMO and its growth provides a glimpse into the world of PM circa 2,032.
2022 PMI台灣專案管理國際論壇(PMI Taiwan International Congress,PTIC)講者