Tumentsogt Tsevegmid
President, PMI Mongolia Chapter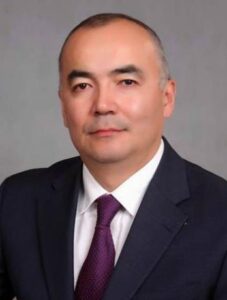 【簡歷 Bio】
Mr.Tumentsogt Tsevegmid serves as a President of Mongolia Chapter of Project Management Institute (PMI), international network of project management professionals (PMP) since November 2021.
Mr.Tumentsogt Tsevegmid was appointed as a Chairman of the Business Council of Mongolia (BCM) in August 2020.
Mr.Tumentsogt served as a Board Director of Oyu Tolgoi LLC from 2018 to 2020 and as a CEO of Erdenes Oyu Tolgoi LLC, Government shareholder which holds 34% of interests at the world class Oyu Tolgoi copper & gold project from 2019 to October 2021.
Mr.Tumentsogt served as a CEO of Erdenes Mongol LLC, Mongolia's largest state holding company/sovereign wealth fund responsible for managing Government strategic mining assets in Mongolia, including Tavantolgoi (TT) coal deposits, Oyu Tolgoi copper & gold (34%), Baganuur, Shivee ovoo coal deposits, Gashuun Sukhait paved toll road, uranium assets from  2016 to 2018.
Mr.Tumentsogt served as a Chief Representative & Executive Director of General Electric (GE) International Inc. in Mongolia from 2011 to 2016. He is a business executive with management experience in areas of project finance, investment lending, infrastructure (energy, renewables, rail, water). Some of his deals and projects include development and investment in Mongolia's first grid connected Salkhit wind park, 50 MW, supplying locomotives for Ulaanbaatar Railways, jet engines for MIAT Mongolian Airlines, mining and healthcare equipment; and managing and implementing projects in energy, water, renewables at the World Bank.
Mr.Tumentsogt served as an Advisor to Minister of Fuel and Energy, and his experience in public sectors include serving as a Commissioner at the Energy Regulatory Commission, and working at the Ministry of Infrastructure, Ministry of Fuel and Energy, State Property Committee in areas of project management, project finance, energy policy, power sector regulation, PPPs, regional energy cooperation, renewable energy, energy efficiency, carbon finance, air pollution and urban infrastructure.
Mr.Tumentsogt supports business advocacy groups, such as the Business Council of Mongolia (BCM), the CEO Club, Mongolian National Chamber of Commerce & Industry (MNCCI) and actively participates and contributes to activities of professional organizations, including Project Management Institute (PMI) Mongolia Chapter, Future Energy Mongolian Hydrogen Council (FEMHC).
Mr.Tumentsogt holds MSc degree in Electrical Engineering from Moscow Power Engineering Institute (Russia), and MPA in Public Administration from the School of Public and Environmental Affairs at Indiana University (USA).
【演講題目 Speech Topic】
Opportunities for a Project Economy in the Post Covid Environment
【演講大綱 Speech Abstract】
The post pandemic environment brings multiple challenges to the countries around the world, including supply chain disruptions, delays in trade and logistics which result in higher prices for food, goods, services, and high inflation.
The key global challenges affecting the future of the society and businesses for decades to come will be:
Digital transformation. The fourth IV industrial revolution and the impacts of the big data, IoT, 5G, AI, digital payments and the blockchain technology will transform daily lives and the way we do business. The digital transformation will have disruptive changes to all aspects of the society and business, banking and financial sector, and may further exacerbate inequality and uneven growth;
Climate change. The environmental scientists bring evidence that the changes of climate change to the nature will have catastrophic and irreversible consequences to the earth unless the countries take concerted and urgent actions to align with the goals set by the Paris climate change agreement of the 1,5 degree scenario by 2050. Many countries already have pledged their commitments at the COP26 summit in Glasgow last year.
The regional security situation is becoming increasingly unstable with the establishment of the new military regional blocks, such as AUKUS, and the conflicts (expansion of the NATO and the Russia/Ukraine war), which resulting in trade sanctions, price increases for natural gas, oil, prices for energy, fuels, grain and food and inflation, and humanitarian crisis.
As a landlocked country between the Russian Federation and the People's Republic of China (PRC), Mongolia, country with the land of 1.6 million square km, 3.3 million people and 70 million livestock, did overcome well the pandemic years with fewer losses of peoples' lives. But the mining dependent economy has suffered and economic growth contracted due to the reduced exports of minerals to PRC and the China's "Zero Covid policy". But the lucrative opportunities exist in: 1) mining – due to the increased demand for copper, lithium, nickel – the "critical" elements needed for climate change response solutions (renewables, electric vehicles and power storage); 2) agriculture supplying organic produce (meat, diary etc) to high end, premium markets; and the 3) adventure tourism for outdoor activities in the grasslands, mountains and Gobi desert.
As response to a post Covid recovery, Mongolia aims addressing the bottlenecks in the economy and implementing much needed projects in energy, ports' border crossing, industry, agriculture, urban, green development, and the public sector reform. Mongolian President initiated planting of the 1 billion trees as a Mongolia's contribution to the global climate change agenda.
Given these global and local circumstances we at the PMI Mongolia believe that the opportunities exist for project management practitioners in the mining, agriculture and related added processing, and services.
2022 PMI台灣專案管理國際論壇(PMI Taiwan International Congress,PTIC)講者