周天穎
Tien-Yin Chou
逢甲大學 地理資訊系統研究中心
GIS Research Center,Feng Chia University
主任
Director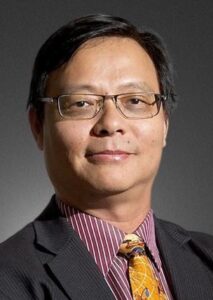 【簡歷 Bio】
密西根州立大學 資源發展系 博士
Ph.D., Dept. of Resources Development, Michigan State University, U.S.A.
國立中興大學 水土保持學系 碩士/學士
M.S/B.S., Dept. of Soil and Water Conservation, National Chung Hsing University, Taiwan
地理資訊系統 GIS, 遙感探測 Remote sensing detection, 水土保持 Soil and water conservation, 防災資訊 Disaster Prevention Information
【演講題目 Speech Topic】
數位孿生解決方案可產出創新模式?
The Innovation Model by Digital Twin Solutions?
【演講大綱 Speech Abstract】
Digital Twin has been recognized as one of the top technology trends in the world for the past ten years. With the fast application of IoT, AI, Blockchain, AR, VR …etc., Digital Twin solutions will still be the most comprehensive and important elements among all respects. But if without domain knowledge, Digital Twin can not be implemented in any field.
Can the solutions developed by digital twin be supported as the initiation of innovation model to serve industry 4.0 era? Is there any connection between digital twin solutions strategy and project management? This speech will focus on smart city digital twin solutions to well demonstrate the possible innovation model to mutually benefit even for economic return value.
2022 PMI台灣專案管理國際論壇(PMI Taiwan International Congress,PTIC)講者