PMI 2023 Future 50 得主: 徐郁涵 (Janice) (台灣)
PMI Future 50 2023 Honoree- Yu-Han Hsu (Janice) (Taiwan)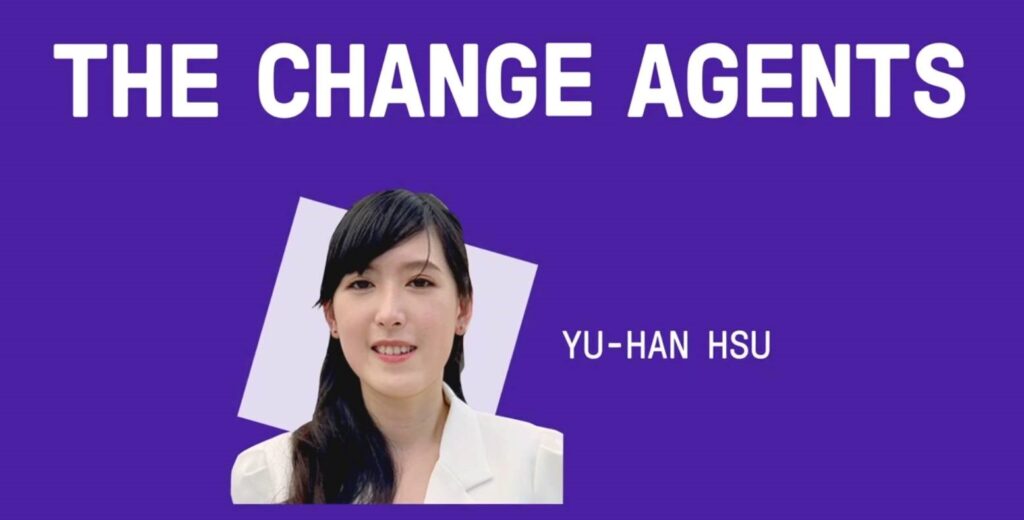 2023年,PMI公佈了Future 50名單,其中台灣的徐郁涵小姐成為了Project Management Institute 2023 Future 50的優秀成員,這一成就受到廣泛關注。除了她在Eslitec的卓越創業之外,她在分會的推動中扮演了極其重要的角色,擔任副主委,與分會理監事們共同合作,這為她增添了更多的光輝。
In 2023, PMI announced its Future 50 list, and among the honorees was Ms. Janice Hsu from Taiwan, who became a distinguished member of the Project Management Institute's 2023 Future 50. This achievement garnered widespread attention. In addition to her outstanding entrepreneurship at Eslitec, she played a pivotal role in the local chapter as Vice Chair, collaborating closely with chapter leaders and directors, adding to her luster.
徐郁涵對未來的勞動力進行了深刻的思考,將其分為兩大類:一方面是懂得運用AI工具的人,另一方面是能夠建立AI工具的人。為確保所有人都能夠跟上科技轉型的浪潮,她創立了Eslitec,成為農民和小企業運用科技的橋樑,強調人們需要被教導如何善用AI。這一靈感來自她在Advantech擔任軟體專案經理期間,參與台灣水土保持局的專案,親身體驗到當地農民和小企業主對數位工具的不足認識。
Janice Hsu has deeply contemplated the future workforce, categorizing it into two main groups: those who can utilize AI tools and those who can create AI tools. To ensure that everyone can keep up with the technological transformation, she founded Eslitec as a bridge for farmers and small businesses to harness technology, emphasizing the need to educate people on how to harness AI. This inspiration came during her time as a Software Project Manager at Advantech when she was involved in a project with Taiwan's Soil and Water Conservation Bureau, witnessing firsthand the limited digital tool awareness among local farmers and small business owners.
截至2021年,Eslitec積極參與政府計劃,協助企業整合雲端工具以促進經濟增長。她成功幫助了數百家企業降低成本、增加收入、提高效率,並擴展市場。在面對小型企業多重挑戰時,她以靈活的快速迭代方法推動專案。徐郁涵和她的初創公司已經幫助了500多家中小企業改善運營,這種成就不僅反映了她的才華,還體現了她在分會內部的積極參與,尤其是她與分會其他理監事與主委間合作的默契。
As of 2021, Eslitec actively participated in government initiatives to help businesses integrate cloud tools for economic growth. She successfully assisted hundreds of businesses in reducing costs, increasing revenue, improving efficiency, and expanding their markets. When faced with multiple challenges in small businesses, she drove projects using a flexible and rapid iteration approach. Janice Hsu and her startup have helped improve operations for over 500 small and medium-sized enterprises, reflecting not only her talent but also her active involvement within the chapter, especially her synergy with other colleagues in PMI Taiwan.
此外,徐郁涵在PMI台灣共創委員會擔任副主委,協助PMI台灣推動影響力專案。在2022年,她與共創委員會合作,貢獻了706個影響力時數,旨在用專案管理和敏捷管理改善,成功引領了全台14個青年團隊。高達近9成的團隊表示內部管理得到了改善,這一成就被PMI刊登在Hours for Impact上,成為一個國際認可的計畫。這樣的貢獻不僅提升了分會的聲譽,也彰顯了她在推動分會事業中的重要角色,並展現了她與PMI台灣分會合作的卓越能力。
Furthermore, Janice Hsu served as Vice Chair of the PMI Taiwan Co-Creation Committee, assisting PMI Taiwan in promoting impact projects. In 2022, she collaborated with the Co-Creation Committee, contributing 706 impact hours aimed at improving project management and agile practices, successfully leading 14 youth teams across Taiwan. Nearly 90% of the teams reported improved internal management, and this achievement was featured on PMI's Hours for Impact, gaining international recognition. Such contributions not only enhanced the chapter's reputation but also showcased her vital role in advancing chapter initiatives and her exceptional collaboration with PMI Taiwan.
PMI Future 50是一個備受期待的獎項,旨在鼓勵35歲以下年輕專案經理。每年,PMI都會精心挑選出50位最具潛力的專案經理,並予以表揚。徐郁涵的成就和此獎項的歷史得主,包括美國眾議員Bryan Steil和美國NBA球員Bismack Biyombo,為她帶來了無上的榮耀,同時也為台灣專案管理界添光彩。
PMI Future 50 is a highly anticipated award designed to encourage young project managers under the age of 35. Every year, PMI carefully selects and recognizes the 50 most promising project managers. Janice Hsu's accomplishments, along with past recipients of this award such as U.S. Congressman Bryan Steil and NBA player Bismack Biyombo, have brought her unparalleled honor and added prestige to the project management community in Taiwan.
延伸閱讀:PMI 2023 Future 50名單: https://www.pmi.org/future-50/
The Full List of Future 50 Honorees