Matt Tomlinson 
Board Director, PMI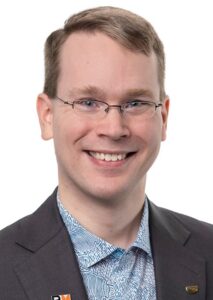 【簡歷 Bio】
Matt Tomlinson is a technical product director at Indeed, where he helps millions of people find jobs.
A lifelong entrepreneur, Matt formed his first startup in his parents' garage at 16.  Now, a few decades and several startups later – he is still trying to figure out what he wants to be when he grows up.
Matt has been an active PMI member and volunteer for over 14 years and is an appointed director on the PMI board where he helps to chart a course through the changes to our profession, enabling us to help members and practitioners for the next 50 years.
He is the father of three girls and is trying his best to teach them how to create positive change in the world.
【演講題目 Speech Topic】
The Role of AI in the Future of Project Management
【演講大綱 Speech Abstract】
This talk will focus on what project managers need to know to prepare for the future of project management. High-level topics will include – power skills, PMI thought leadership, the talent triangle, megatrends, and artificial intelligence. Matt will go into a deep dive into how artificial intelligence works, framed as an introductory overview to inform project managers on how to manage projects that involve AI. The presentation will conclude with a discussion of the recent developments that appear to be changing how people perceive and interact with AI. There are always plenty of questions about AI and project management, so the talk with conclude with a questions & answers section where Matt will field questions from the audience.
2023PMI台灣專案管理國際論壇(PMI Taiwan International Congress,PTIC)主持人及講者